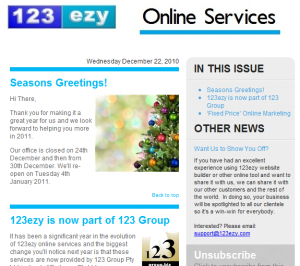 No matter how sophisticated we become using social media services like Facebook and Twitter, our email account is still what identifies us. Your email address can be used to transfer money using Paypal and your email address is required to retrieve passwords and log into many different website services. As a result, it is still the most effective means of reading your own audience directly.
The difference today is that you need to be anti-SPAM compliant. If a recipient of your messages doesn't want to receive your email messages they should be able to "opt-out" in an instant. They also need to "opt-in" to receive them in the first place.
The Create-Send email newsletter service provides you with a fully anti-SPAM compliant email newsletter service that not only enables your recipients to opt-in and out, but provides you with a full analytics dashboard to see who is clicking on what in the messages you sent out. It's a great way to find out what your recipients are looking for.
Email Newsletters Help You Optimise Your Sales Funnel
A professional permission based marketing system enables you to continuously send messages to your client base or prospects and keeps you front of mind. It also enables you to measure the resulting website traffic from your newsletter so you can better provide for your prospects, find out what they really want and then do more of that.
Learn more about Permission Marketing