The Creation of Your 'Tribe'
Social media marketing enables any business owner, sales person or service professional to connect with other like-minded people, share information and have discussions. It also enables you to do more targeted advertising to potential customers based on specific criteria like demographics, geographic location and profession.
Learn about Facebook advertising for real estate agents.
Social Media Marketing Helps Buyers Know, Like and Trust YOU
The importance of social media has been established, particularly for real estate agents looking to gain a competitive edge. If you're looking to become a go-to agent in your local area, social media should form part of your Digital and online marketing strategy, and should always be considered in connection with the content you create.
Younger house hunters and people selling may have expectations that taking questions or comments and answering them in an open instantaneous forum is the norm, but this hasn't yet happened in real estate on a wide scale. Stand out from your competitors by engaging with them and creating meaningful, responsive and valuable interactions — all in a way that won't take up all of your precious time!
Social Media Marketing Profile Pages (Facebook Page)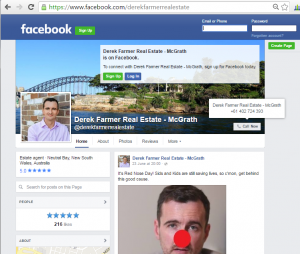 Facebook is the social media of choice for most people starting out on their digital marketing journey. With over 1 billion members it's a logical place to start and it's free to setup. Your Facebook page can be setup to target local people and you can create pages for your key services. Facebook Pages enable you to setup admins who can manage your Facebook Page for you and offer standardised call-to-action buttons for the most common tasks.
Once you have a Facebook Page your biggest challenge is going to be filling your Facebook Timeline (also called Newsfeed) with relevant content. If the content on your timeline is relevant and interesting many of your page likers will click to follow the links to the original article. Read about ways of getting content cheaply..
Facebook Timeline Posts and Updates
This is the biggest challenge for most real estate agents and it's also one of the most desirable goals because it creates a perception that you are busy and active. If you are having someone else manage your Facebook Page you need to be careful that it comes across as authentic and as something you would really say, comment about or promote. Also consider that if you link to other company's articles you are actually sending YOUR traffic to THEIR website. If you know how valuable a mention about you at RealEstate.com.au or Domain is you may also start to realise that in a digital marketing work anytime to you link to them you are adding to their brand strength.
Scheduling posts is a good way to get the job done ahead of time and in a planned manner – you can always add an extra comment or mention personally whenever you want.
Getting Good Content Cheaply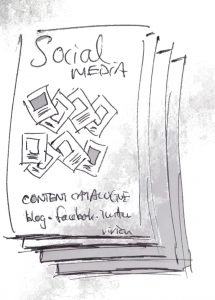 Digital Marketing professionals also refer to social media marketing as content marketing because you need the content (blogs and news, videos and photographs) to use at your Facebook Page or Website. Real estate agents are able to use their vendor content to help promote their own brand and they can talk about property – which most people are very interested in.
When you start straying away from the property you are listing or have listed you'll soon find that your potential clients or connections want more than just your property for sale, they want information from you about property, something that can help them sell their home faster or for more money. Some people research and read up about the various aspects of the selling or marketing process so they are better informed some people want to know what is currently going on in the suburb or where the good schools are.
We offer a content catalogue of real estate articles that you can licence and republish on your Facebook Page or website. Best of all if you licence our content we won't licence it to a competing real estate agent. Read more about Content Marketing for real estate.
Using Video in Social Media Marketing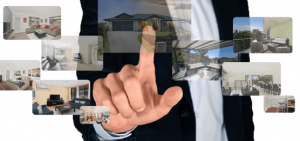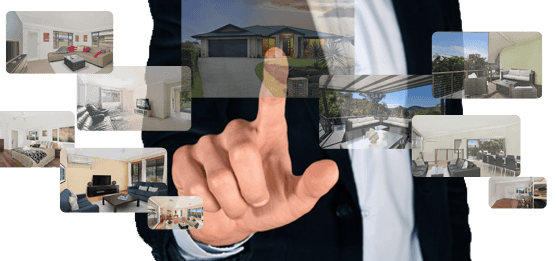 Social media is about being authentic and about revealing who you REALLY are. Cheesy smiles and glossy photographs can help elevate your profile in one way but sharing and commenting gives potential customers an authentic view into what you do and how you do it.
Video marketing is one way to stay at your Facebook Page or website longer and it is one of the best ways for them to get to know you – if you're in the video that is. Video brings a whole extra dimension to social media marketing because you'll need to:
Create the strategy and concept for the videos
Shoot the video and then edit it
Get it onto a video hosting platform
Insert the code into your website
Write some text to compliment the video
Manage Your Social Media Yourself
If you're hands on you can just sign up for your different social media profile, learn how to use them and create content to publish on them, then schedule future posts if you want to. You may already have staff and want to get them to learn how to use social media tools to manage your social media marketing, we can help you either way. If you are interested in learning about all the tools we're thrilled to let you know that we'll be revealing all the tactics we used to help Derek Farmer become a leading agent (if not THE leading agent) in Cammeray in Sydney's Lower North Shore. You'll learn things like:
How we got Derek Farmer on page 1 in Google,
How we got Derek's face in front of his database using Facebook Ads
How Derek filled his timeline with relevant content to become a local property authority
How we helped grow Derek's sphere of influence using Opt-in, permission based marketing, and
How we go people to engage with him about property on social media
If you want to learn more, read about our FREE Social Media Email Course and watch out for the full Digital and Social Media Marketing Online Course to be revealed soon.
We Can Manage Your Social Media
We take a holistic view on social media and can manage it's set up and ongoing performance. Speak with us about how social media will be part of your online marketing strategy. For most real estate agents social media marketing is all about becoming and remaining front of mind with prospective property sellers and that means filling your Facebook timeline with useful, interesting and relevant content.
It's a task that can be pre scheduled and customised according to your style – let us take care of that for you.
Learn about our Social Media Management for real estate agents service.